So this is an incredibly exciting moment for me! I am absolutely honoured to be asked to be a part of UKYA Extravaganza's blog tour and it is even more of an honour to host the wonderful Janet Edwards! I shan't say too much else, apart from that Earth Girl (the first in her trilogy) is completely excellent and you should all read it! 🙂
Without further ado, here is the wonderful Janet Edwards! 🙂
---
First things first, this is your first time featured on georgelesterwrites.com, tell us a bit about yourself and your marvellous Earth Girl trilogy. 
I'm Janet Edwards, author of Earth Girl, Earth Star, and Earth Flight, which are published by Harper Voyager in the UK and Pyr in the USA. The trilogy is set in a distant future where humanity portals between hundreds of colony worlds . . . except for the unfortunate few whose immune system can't handle living anywhere else but Earth. Jarra was sent to Earth at birth to save her life and abandoned by her parents. She can't travel to other worlds, but she can watch their vids, and she knows all the jokes they make. She's an "ape," a "throwback," but this is one ape girl who won't give in.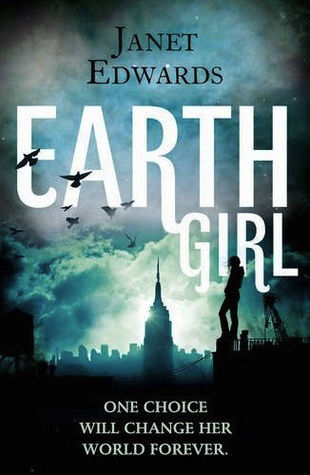 I think the skilful world building towards the start of the book is what really piqued my interest, where did the idea for this world come from? How did you go about developing it?
It started with thoughts about how changes in society and technology can help with some disabilities but also create new ones. For example, dyslexia wasn't a problem before the invention of writing. What if interstellar portals were invented, and people could live on hundreds of worlds scattered across space, except for an unlucky minority? What if something as normal to us as living on Earth became regarded as a disability? I gradually came up with a whole future society, where parents abandoned such inconvenient babies at birth, leaving them to be raised in the institutions of Hospital Earth.
What was the hardest part about writing Earth Girl?
The frustration of the things I couldn't write in the books. The Earth Girl trilogy is written solely from Jarra's viewpoint. Although I knew a lot of fascinating details about the other characters and their home worlds, I couldn't write anything about them that Jarra wouldn't know. I've since eased that frustration by writing an extra set of prequel short stories for the trilogy which each feature one of the other characters, giving readers a glimpse into their very varied backgrounds. You can currently read these on my website at http://janetedwards.com/free-stories/
Jarra is incredibly sassy and very complex. Frankly, I adore her! How did you develop her from idea to how she appears on the page?
I had a whole future Earth invented, like an empty stage waiting for a play to start. My first idea of a story to tell in this world was about some new parents abandoning their baby, but that felt entirely wrong. I left it for a while, and then a girl came from nowhere, stomping into my brain. The abandoned baby of my first idea had grown up, she was bitterly angry, and she was screaming her story at me. I didn't develop her. I just cowered and obediently wrote down what she told me.
What message, if any, would you like people to take from Earth Girl?
To try to look beyond the labels we put on people and the assumptions we make about them.

Which five words would you use to persuade someone to read Earth Girl?
Five words??? I struggle to write anything shorter than 100,000 words, and I suffer from the British reluctance to say good things about my own work. Hold on a minute while I check the review quotes on my website…. Let's go for a quote from In All Series-ousness (http://inallseries-ousness.blogspot.co.uk/2013/02/earth-girl.html):- Katniss in space but awesomer.
Have you always wanted to be a writer? 
I've always loved books and spent a lot of time lost in fictional worlds, but I originally wanted to be an astronaut. Now I write science fiction, and travel to distant worlds in my imagination.

Tell us a little bit about your journey to becoming a published author.
I had a long illness that meant I couldn't get out of the house very much. When I was recovering, I started a two hour a week creative writing class. First I wrote some short stories, and then I moved on to trying full length books. After the long illness when I couldn't leave the house, I found myself writing about a girl who couldn't leave this planet. That book escaped into the world a lot faster than I expected.
What was it like writing a trilogy? Was there much pressure there or did you take it all in your stride?

When I wrote Earth Girl, I never expected it to be published. I was writing just for myself, so I could happily try things like challenging twists in the plot that were difficult to write in the first person. Writing the other two books in the trilogy was very different. It was wonderfully exciting because I knew other people would read them. It was also horribly scary because I knew other people would read them. Fortunately I write fast and have lots of ideas, so I never really suffered from the extra pressure of worrying whether I could manage to write the books in time to meet their deadlines.
What books inspired you growing up? Do you have an all time favourite?
This is the sort of question I could answer differently from one day to the next. I must have read thousands of books growing up, and they all inspired me. I'm especially grateful that Alexei Panshin's Rite of Passage showed me there was room in science fiction for a young female heroine, and for Anne McCaffrey's Dragonflight that took me flying on dragons.
What was the last great book you read?
Since this interview is part of the UKYA Extravaganza blog tour, I think that I won't recommend one great YA book written by a UK author, but point people to the Author Allsorts website https://authorallsorts.wordpress.com/. Author Allsorts is a group of UK authors (including me), and the members' page gives details of lots of great books written by many of the people involved in the tour and event.

Now onto some quick fire questions!
Coffee or Tea?
Tea.

Books or Movies?
Books.

Winter or Summer?
Spring!

Sci-Fi or Romance?
Sci-Fi.

Writing by hand or typing?
Typing. Always. Even I can't read my handwriting.

Would you rather meet an alien visitor or travel to outer space?
That's a cruel choice. I demand both.

Would you rather be three feet taller or three feet shorter?
Taller. I'm small enough already.

Would you rather have super powers or have Christmas never end?
Super powers. I want to fly!

And to close;
Can you tell us what you're working on right now?
Multiple projects. I'm looking at making the short story collection available as an ebook. I'm also working on a prequel Earth Girl novella featuring Jarra, a book related to the Earth Girl trilogy but in an earlier time period, and a book about an entirely different future. If anyone wants to get updates when there's news of more publications, then they can sign up for a newsletter on my website. 
And finally, for budding writers out there, what is the best piece of advice you could give?
Write. I'm totally serious about that. Writing advice, classes, even degree courses can't help you unless you spend a lot of time actually writing.
---
BIO
Janet Edwards lives in England. As a child, she read everything she could get her hands on, including a huge amount of science fiction and fantasy. She studied Maths at Oxford, and went on to suffer years of writing unbearably complicated technical documents before deciding to write something that was fun for a change. She has a husband, a son, a lot of books, and an aversion to housework.
Find out more about her and her EARTH GIRL trilogy at:-
Website www.janetedwards.com
Twitter @JanetEdwardsSF
Facebook http://www.facebook.com/JanetEdwardsSF
---
All the other dates and whatnot are on the image below! Don't forget to check out all of the other posts and to share them to spread the UKYA Love! 😀
Thanks for reading and many thanks to Janet for answering my questions! 😀
George 🙂